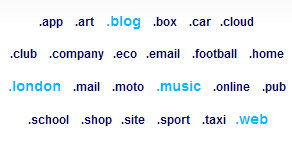 With the launch of new generic Top-Level Domains, we can expect to see some revolutionary changes in the virtual world. Online communities worldwide are awaiting the launch of hundreds of new Internet extensions available for registration. With new extensions such as .HOTEL, .SPORT or .ART, your presence online may be more easily discovered and Internet address easier to remember. Now is a perfect moment to pre-register some of the most sought after domain names before they are snatched by your competition. With Web Solutions, pre-registration is available free of charge and we will keep you posted on any new developments relevant to the domains of your choosing so you are ready when it is time to register the domains.
To ensure your participation in Sunrise, it is not too late to register your trademark with the Trademark Clearinghouse through our Managed TMCH submission service. Contact our support team at support@web-solutions.eu for more information about our service.
What are new gTLDs?
Top-Level Domain, or TLD, refers to the suffix attached to the internet domain name such as .COM, .EU or .UK. There is a limited number of Top-Level Domains available today. However, with ICANN's setting in motion the new generic TLDs program (gTLDs), we can expect more than 1400 new Top-Level Domains to become available in the coming months.
With focus on the Internet security and stability, ICANN's program has been designed to promote competition in the domain name market. New generic TLDs can be instrumental in increasing consumer choice and sparking innovation.
What does pre-registration mean?
The first groups of new gTLDs are expected to be launched in November 2013. Your request for registration, i.e. expression of interest in a particular new gTLD, will be held in a queue until it becomes possible to submit it. With Web-Solutions, you can pre-register the domain name of your choosing free of charge at our New gTLD pre-registration page. This will also ensure that you will be kept up to date on the status of the TLDs you are interested in.
What is Sunrise phase?
Sunrise refers to a registration period of at least 30 days designated specifically for trademark holders. A trademark owner may register the domain name containing a validated trademark from the Trademark Clearinghouse. It is an opportunity to take advantage of the priority given to owners of trademarks to register their domain names before they become available to the general public. Use our Managed TMCH submission service to submit your trademark to Trademark Clearinghouse. Contact our support team at support@web-solutions.eu for more information.
What is Landrush phase?
Landrush refers to the phase that occurs after Sunrise. During optional Landrush phase, early non-trademark registration is offered as a premium opportunity to register domain names before they become generally available. Not all TLDs may be available for registration at Landrush and registration costs are usually higher as Landrush offers early access to the most sought after domains.
What is Open Registration?
The next phase following Landrush is Open Registration, also called General Availability or General Registration phase. During that phase, TLDs are available for registration to all individuals and organizations subject to registration requirements (type of organization, business registration, etc). Domain names are registered on the first come, first served basis.
To pre-register your new generic TLD, go to New gTLD pre-registration page.