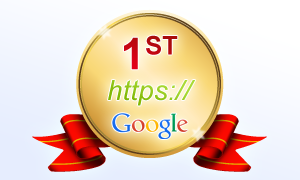 Google has officially announced what was suspected for some time – that going HTTPS — adding a SSL 2048-bit key certificate on your site — will give you a ranking boost.
Google says this gives websites a ranking benefit within the overall ranking algorithm. They even went so far as to say that they "may decide to strengthen" the ranking signal because they want to "encourage all website owners to switch from HTTP to HTTPS to keep everyone safe on the web."
Based on Google's own tests during 2014, the presence of HTTPS showed "positive results" in terms of relevancy and ranking in Google's search results.
SSL shop:
Don't forget that, if your company owns SSL Certificates, you can renew these via our SSL service. We offer competitive prices for both new registrations and renewals, as well as volume purchase discounts.
You can renew or create the following types of certificates:
Symantec / VeriSign
Thawte
GeoTrust
RapidSSL
New orders: SSL Shop
Renewals: Email us at support@web-solutions.eu
More information about Google and SSL here: Google will push up rankings for pages using the https protocol