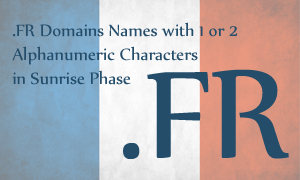 It is now possible for trademark/rights owners to register domain names that consist of one and two alphabetic and/or numeric characters that use the following ASCII and IDN characters:
a, à, á, â, ã, ä, å, æ, b, c, ç, d, e, è, é, ê, ë, f, g, h, i, ì, í, î, ï, j, k, l, m, n, ñ, o, ò, ó, ô, õ, ö, oe, p, q, r, s, t, u, ù, ú, û, ü, v, w, x, y, ý , ÿ, z, ß, 0, 1, 2, 3, 4, 5, 6, 7, 8, 9, excluding the hyphen/minus sign (-).
Domain names are registered on a first come, first served basis.
The following domain names that correspond to national country codes (and their IDN versions) are not available for registration:
fr.fr
re.fr
pm.fr
yt.fr
tf.fr
wf.fr
nc.fr
pf.fr
mf.fr
bl.fr
gp.fr
mq.fr
gf.fr
Domain names that are also excluded are: co.fr, tm.fr and nh.fr.
Those interested in registering domains must adhere to the naming policy and other rules of the French domain registry.
The Landrush Phase will start February 16, 2015 and end March 17, 2015. Any interested applicant can register a domain name consisting of 1 and 2 characters during Landrush.
The General Availability Phase will commence March 17, 2015 at 3 pm. UTC
If you are interested in registering a 1 and/or 2 character French domain, please contact our Support Team at support@web-solutions.eu or via phone on +44 (0) 20 4571 1971.