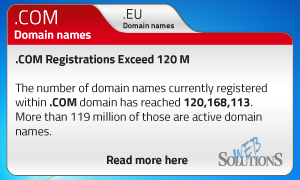 The most popular extension in the world has been the leader among all Top-Level domains for the last decades and generally stands for reliability and global standard. It is a number one choice for all Fortune 500 companies and often for aspiring businesses as well.
Despite continuing growth, millions of domain name combinations are still available under .COM. In fact, about 95% of names consisting of 5 characters and 99% of those consisting of 6 characters are still available for registration. Over 120 million .COM names that have been previously registered are obtainable.
It is highly recommended to choose descriptive domain names, especially those rich in key words such as location or area of expertise. Last year, more than 11 million .COM domain names had at least two English key words in the name. Although short names are desirable, experts assert that longer and more descriptive addresses are easier to remember. It has been indicated that domain names with more key words have a higher click-through rate on search results pages.
If you are thinking about marking your presence on the Internet with this most attractive legacy TLD, enter your desired domain name in our search tool and check if it is available. Statistics show that 7 out 10 times a name is checked, it is available for registration.
If you need help or have questions, please do not hesitate to contact us by email at support@web-solutions.eu or via phone on +44 (0) 20 4571 1971.