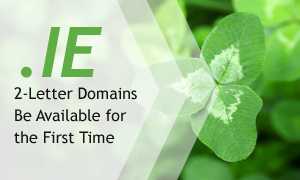 Ireland's shortest domain names will be made available for registration upon the conclusion of a public consultation conducted by the Irish Domain Authority and the announcement of procedural process.
It is expected to see increased competition for combinations of letters that represent company abbreviations, particularly where these apply to one or more companies. Furthermore, it can also be anticipated that two-letter domain names which generally denote a distinct type of business or service, such as PR, will be in high demand.
Similar to other country code domains that have already seen the release of short domain names, there is expected to be a lot of interest, especially from big brands and SMEs as well as political parties that may be interested in Ireland's shortest internet addresses ever.
Domain names within the .IE namespace continue to be a natural choice for businesses with a substantive connection to Ireland and valid claim to the desired domain name. For consumers, the .IE extension means confidence, greater traceability, and safety, with reduced risk of cybercrime and cybersquatting.
If you are interested in obtaining a two-letter domain name under .IE or other extension, please contact our support staff at support@web-solutions.eu to get more information.