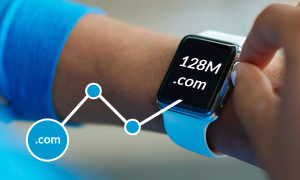 .COM, one of the oldest domains available, continues to grow. Based on the data posted by the registry, there are 128 177 689 names registered within the .COM extension at the time of writing this. The domain reached the 127 million mark four months ago.
The .COM extension has been on the Internet for over 15 years and has become the "global online standard" for Fortune 500 companies and most businesses. For a long time, it has not recorded declines in the number of registrations in contrast to most gTLDs and ccTLDs. The unwavering demand for .COM names in China is also part of the domain's success. Given the increasing number of new names and the decreasing number of availabilities in the .COM space, the domain's growth rate can be considered as quite impressive.
The second largest gTLD, .NET, has yet to cross the 16 million mark. It was outrun by the Chinese country code domain .CN a few months ago, which currently has nearly 20 million names.
If you have not taken your business online yet, consider doing it with a domain that has a reliable and solid track record. Legacy domains such as .COM or .NET are an excellent choice when registering a website. Please use our search tool to check if the name you like is available.
If you need assistance or have any questions, please contact our Support Team at support@web-solutions.eu.