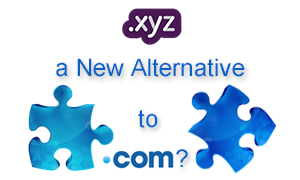 Some expect the launch of .XYZ extension, one of the new gTLDs, to be a vital factor in changing the face of the Internet. Will it be a new alternative to .COM, as its registry's founders predict?
.XYZ has been created as one of "the most flexible, memorable, and affordable domain names on the planet". Marketed as the domain with an appeal to the concept of "Generation XYZ" – the domain denotes an amalgamation of those generations. The domain's main goal is "to bring a new level of innovation, openness, affordability and choice to the Internet" and to be a truly generic TLD – not targeted toward any particular class of applicants and aimed to be the default choice for anyone seeking a generic gTLD.
The .XYZ domain's potential has been put to a test during the first new domain extension auction held by NameJet.com to promote new gTLDs. The address auctioned was Auctions.xyz with the highest bid of only $310. Not only that – the auction was attended by only four participants who placed a total of five bids. For comparison – a similar domain name under .COM has recently been sold through NameJet.com for $11,000. The difference in value is enormous despite the fact that the name under .COM seems to be much weaker than the corresponding name in under .XYZ.
The winners of the auction do not "win" domains, however, but are given the option of registration after the Sunrise period.