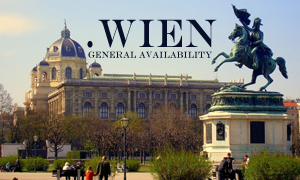 The first day of .WIEN's General Availability resulted in more than 4,000 domain name registrations. Other new geo TLDs such as .BERLIN or .LONDON have also enjoyed great popularity offering businesses, organisations and individuals a unique way by which to show their local ties.
If you wish to display your affiliation with the city of Vienna, consider registering a domain name that will suit your needs – just click on the extension to check the name availability.
For questions or assistance, please contact our Support Team at support@web-solutions.eu or via phone on +44 (0) 20 4571 1971.