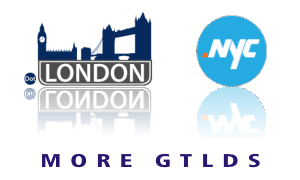 The number of new generic Top Level Domains introduced so far into the Internet's root zone and waiting to go "live" has reached 181.
The .LONDON and .NYC geographic name-places are expected to have a huge success, especially after the .BERLIN domain has quickly become the second top-selling TLD.
With London's population twice the number of Berlin's, the European-based extension .LONDON is expected to gain in popularity. According to a recent survey, one in four businesses in the city of London want to have a .LONDON domain name. Half of them wish to register a .LONDON address because they are proud to be a London-based business, 41% think that a .LONDON domain name will help customers to find them more easily while 27% believe that owning a local .LONDON domain will be instrumental in generating more sales.
Similarly, the residents, businesses and organisations of the New York City will soon be able to enjoy their local .NYC domain. Thanks to this definitive domain, New York-based Internet users will have "a powerful way to find each other and market themselves online". It will be an innovative way to identify yourself as a New Yorker by a specially designated Web address. The city is home to thousands of businesses and "some of the world's most creative people, museums, music, dance, entertainment, media and all of the arts". The new .NYC extension will be a powerful tool with which to show the creativity and affiliation of the city and to boost virtual visibility.
Until the New gTLD Program, there were only 22 generic TLDs available to Internet users. Soon, it will be possible to register a domain name that embraces the vision of any website's owner.
The Internet is becoming a truly global resource. New gTLD registries are operating in nine countries, including Switzerland, Australia and China. While the initial 22 gTLDs consist of Latin characters only and are mainly abbreviated English words, some of newly introduced domains embrace German, Arabic, Chinese, and Russian languages.
These advancements in the utilisation of the Web will support the next generation of Internet users. With more and more devices enabling online operations, clearly defined online space will support growth, innovation and competition. With new gTLDs, defining identities and helping companies to align their brands closely with their products or services will be more efficient.
Geography and common interests will emerge as new grounds for forming new communities while communication in native languages, thanks to the IDNs, will enhance the Internet experience of millions of users around the world.