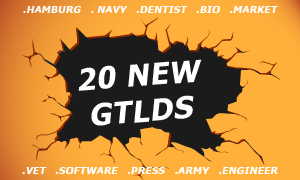 ICANN's New gTLD Program has been designed to enhance choice and competition online. Within the program, hundreds of new generic Internet extensions are being release for use on the Internet offering new choices and identities to Internet users worldwide.
The twenty new gTLDs approved by ICANN include:
.BIO
.VET
.SOFTWARE
.PRESS
.MORTGAGE
.MARKET
.LAWYER
.HOST
.HIV
.DENTIST
.ATTORNEY
.ARMY
.ENGINEER
.GIVES
.HAMBURG
.NAVY
.NHK
.REHAB
.REPUBLICAN
.TIROL
If you are interested in registering a domain name within any of the above extensions or any other domains of your choice, please click on the extension to find out more about its registration procedures.
If you need assistance, our Support Team is available at support@web-solutions.eu or via phone on +44 (0) 20 4571 1971.