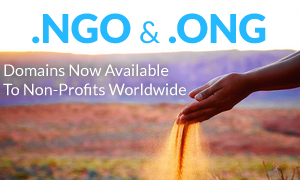 The purpose of launching those extensions designated specifically to not-for-profits has been to help strengthen their online presence, improve their visibility, and have a better connection with their supporters under one global directory.
In contrast to hundreds of new generic TLDs, the .NGO and .ONG extensions will provide a validated resource for non-government organisations anywhere in the world under one global directory of NGOs. This will allow for better connection and collaboration among non-profits as well as donors and supporters online. The validation process that applying NGOs have to go through before they are granted a domain name will increase donor confidence in that their contributions serve a genuine cause.
Registrants of .NGO and/or .ONG domain names have a unique opportunity to demonstrate their genuine and lawful commitment to their cause. They will also be able to create their custom-made online profile to present their missions, campaigns, multimedia materials and other information. To accomodate the new trends in online communication, the .NGO/.ONG namespace will allow Internet users around the globe to search non-profit organisations of interest and donate funds securely.
In order to register a domain name under .NGO/.ONG extension, applicants need to satisfy eligibility requirements:
act in the public interest;
be non-profit-making;
have limited government influence;
be comprised of independent staff or members;
be actively pursuing their missions;
operate in a structured manner;
be lawful.
and go through a validation process and ongoing audits conducted to ensure the credibility of the NGO community.
If your non-profit organisation needs more online recognition, consider registering a new and meaningful domain name under .NGO/.ONG. For more information, please contact us at support@web-solutions.eu.