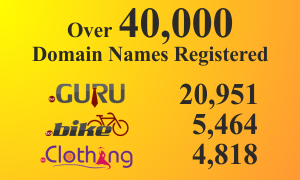 According to data published by DomainIncite.com on 8 February, among the newly released new gTLDs, the .GURU domain is leading the way with more than 20,000 domain names registered under the suffix.
.GURU is followed by .BIKE with over 5,400 registrations and .CLOTHING with approximately 4,800 registrations. The number of registrations under other new gTLDs can be viewed in the table below:

The dynamic daily growth rate of approximately 30-40% demonstrates genuine interest in the new namespaces with the exception of the Arabic IDN .SHABAKA, delegated in October 2013, that seems to be tailing off.
Big businesses have already expressed interest in the new gTLDs. To date, big corporations including Amazon, Apple, General Electric, Microsoft and Maserati have registered domain names under new extensions.
Below is a sample of domain names registered by the above companies, based on OnlineDomain.com:
Amazon
aws.camera
fire.camera
prime.camera
imdb.camera
kindle.camera
junglee.camera
amazon.photography
fire.photography
aws.photography
imdb.photography
junglee.photography
kindle.photography
prime.photography
prime.equipment
amazon.equipment
kindle.equipment
aws.equipment
prime.estate
aws.estate
fire.estate
amazon.estate
kindle.estate
prime.gallery
aws.gallery
amazon.gallery
fire.gallery
kindle.gallery
amazon.lighting
fire.lighting
aws.lighting
prime.lighting
kindle.lighting
prime.graphics
kindle.graphics
aws.graphics
Apple
photobooth.camera
aperture.camera
isight.camera
imovie.camera
iphoto.camera
facetime.camera
retina.camera
apple.photography
iphoto.photography
isight.photography
facetime.photography
retina.photography
photobooth.photography
aperture.photography
imovie.photography
General Electric
infusion.lighting
evolve.lighting
energysmart.lighting
immersion.lighting
albeo.lighting
tetra.lighting
reveal.lighting
gtx.lighting
lumination.lighting
brightfromthestart.lighting
softwhite.lighting
Microsoft
lync.camera
kinect.camera
photosynth.camera
kinect.photography
live.photography
kinect.equipment
visualstudio.gallery
internetexplorer.gallery
kinect.gallery
xboxlive.gallery
photosynth.gallery
sharepoint.gallery
powerpoint.gallery
windowsphone.graphics
visualstudio.graphics
live.graphics
internetexplorer.graphics
xboxsmartglass.graphics
windowsserver.graphics
windowsintune.graphics
msdn.graphics
visio.graphics
powerpoint.graphics
halo.graphics
kinect.graphics
silverlight.graphics
smartglass.graphics
Maserati
quattroporte.equipment
levante.equipment
maseratigranturismo.equipment
maseratigrancabrio.equipment
maserati.equipment
ghibli.equipment
gransport.equipment
mc12.equipment