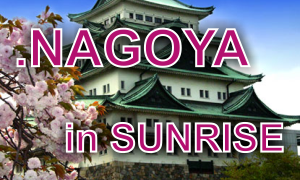 The opening of .NAGOYA, Japan's first new geographic Top Level Domain, marks the commencement of applications open exclusively to trademark holders. This is to protect both trademark rights and the integrity of the .NAGOYA domain.
The .NAGOYGA domain represents the city of Nagoya, in Aichi prefecture, central Japan – the country's third largest metropolitan region with a population approaching 9 million. Nagoya's rich history and culture pairs with being the country's significant industrial and trade center. It is also home to multinational giants like Toyota Motor Corporation as well as a leader in the fields of aviation, precision manufacturing and fine ceramics.
The purpose of the .NAGOYA extension is to promote the city and provide a forum for communication between Nagoya and the rest of the globe. No local address is required to register a .NAGOYA domain name. This geoTLD will be beneficial to anyone seeking to target local markets or establish online identity linked to Japan.
Other geoTLDs that are being introduced to the Internet include: Japan's .TOKYO and .YOKOHAMA (both scheduled for launch in April 2014), .LONDON (to be launched Q2 2014), .BERLIN (in Sunrise phase till 16 March 2014), .NYC (to be launched Q2 2014), and other. Registration within a geoTLD is a great opportunity for any applicant looking to emphasise their affinity with a particular geographic location or expand the scope of their online visibility.
.NAGOYA Launch Phases
Sunrise Phase: Priority registration phase for trademark holders
Date: February 20, 2014 12:00pm (JST) – April 21, 2014 23:59 (JST)
Land Rush Phase: Advance registration (open eligibility)
Date: April 28, 2014 12:00pm (JST) – June 13, 2014 23:59 (JST)
General Availability: Open first-come-first-served registration
Date: From June 23, 2014 12:00pm (JST)
For more information about the .NAGOYA domain, please contact our Support Team at support@web-solutions.eu or via phone on +44 (0) 20 4571 1971.