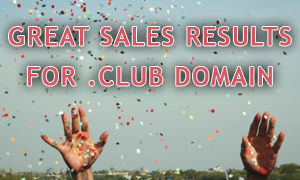 The .CLUB domain, in Landrush Phase until 1 May, has achieved the best sales result to date of all new gTLDs. There are currently 241 domain names registered in the extension.
The .CLUB extension owes its popularity to its wide scope of possible applications. Any entertainment venues and membership organizations should find this new generic extension an ideal tool to mark their presence on the Web.
The following are the highest-priced .CLUB domain names:
CHINESE.CLUB $13 750
TOYS.CLUB $12 500
MEET.CLUB $12 500
TALK.CLUB $10 000
RUSSIA.CLUB $10 000
BLACK.CLUB $10 000
WORLD.CLUB $7 500
RACING.CLUB  $7 500
ONLINECASINO.CLUB  $7 500
HOT.CLUB $7 500
For the sake of comparison, here are the best sales results for .COM and ccTLDs:
FUN8.COM $25 000
GEWERBEFÄCHEN.de €16 500
If you are interested in registering a domain name in the .CLUB extension, please enter your desired name in the box to check if it is available.
If you have questions or need further assistance, please contact our Support Team at support@web-solutions.eu or via phone on +44 (0) 208 133 3994.