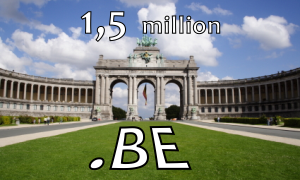 The number of registrations within the Belgian domain .BE is approaching 1,5 million.
Over the last couple of years, the .BE domain has shown continued growth. The statistics point out that one in ten people in Belgium have a registered domain name under .BE.
Since hitting the one million milestone in February 2010, the number of registrations within .BE domain has increased by 500,000 in three years. This result may be attributed to the excellent reputation the Belgian domain has built up over time.
Up to date, there are more than 1,431,300 registered .BE domain names with over 24,084 registrations completed within the last 30 days.
To check if the .BE domain name that suits your needs is available, type the selected name in the box. More information is available by contacting Web Solutions' Support Team at support@web-solutions.eu or by calling +44 (0) 20 4571 1971.