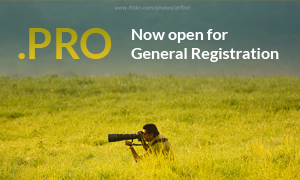 It is now possible for everyone to register a domain name within the .PRO extension which is dedicated to all professionals. The new gTLD may be helpful in marketing a business while highlighting craftsmanship and professionalism.
The .PRO domain is perfect for professionals working in all lines of work across all industries. Currently, there are over 120,000 registrations under .PRO worldwide including various professionals, such as engineers or lawyers. Prior to the announcement of open registration, .PRO names were not available to professionals from a wide range of fields including policemen, firefighters, journalists, programmers, artists, writers, and many others.
If you wish to enhance your professional image online and join the growing number of .PRO registrants, use our search tool to check if the name you are looking for is available.
Please contact us for assistance, should you need any, at support@web-solutions.eu or by phone on +44 (0) 20 4571 1971.