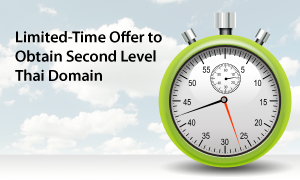 The Thai domain registry has decided to, in return for a solid charity contribution, allow holders of third level .CO.TH domains to register a matching second level .TH domain.
Holding a second level .TH domain would certainly place your company in a very exclusive group, and should raise an eyebrow or two in both Thailand and the region as a whole.
The second level .TH registration can be made under our usual terms and pricing for .CO.TH domains with Trustee Service.
However, there are some specific additional charges, largely payable to the Thai domain registry (we will assist with all these matters):
Application fee – non refundable – once-off: USD 500,00
Annual mandatory local charity payment of 100000 Thai Baht (appr. 3000 USD at today's rate).
The charity payment can be converted to a once-off payment of 1000000 (1million) Thai Baht – never to be repeated again.
Deadline for application: 10/05 2015
Upon successful application or registration, we will forward instructions as to where you can pay in the charity fee directly to the Thai authorities.
To take advantage of this exclusive limited-time offer, please contact us at support@web-solutions.eu.