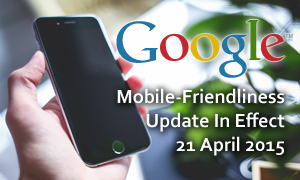 Given the fact that about 60% of online traffic comes from mobile devices, mobile-friendliness has been included in Google's mobile search algorithm as a signal, which is supposed to help find relevant results more easily. The important features of a mobile-friendly web page include readable text without tapping or zooming, appropriately spaced tap targets, and unplayable content or horizontal scrolling reduced to a minimum.
In view of recent panicky articles, it is crucial to stress that the recent update:
Affects only search rankings on mobile devices
Affects search results in all languages globally
Applies to individual pages, not entire websites
While Google uses a variety of signals in the ranking of search results, high quality content as well as a website's mobile-friendliness will be key factors ensuring high ranking for the query results.
If you are not sure if your site is mobile-friendly, you can test each page individually using Mobile Friendly Test or verify the standing of your entire site via the Mobile Usability report in Webmaster Tools. You may experience a significant decrease in traffic from mobile devices utilising Google search if your site is not mobile-friendly.
To avoid negative effects of the search result ranking, think about having a responsive site which recognizes the type of device being used to access it and formats it correctly. Furthermore, if you are using WordPress, it could just be a matter of updating your theme. Focus on the word "Responsive", and choose one of the options available. If your website is utilising a shopping cart, the company should be able to offer responsive sites as well.