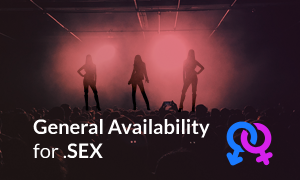 Over 4,000 domain names were registered prior to the launch of General Availability phase for the .SEX domain on 4 November. .SEX has joined other domains related to the adult industry available for public purchase, including .XXX, .PORN, and .ADULT.
With over 300 million searches for industry key words per month, the new .SEX domain has the potential of driving more traffic to the relevant domain extensions. The release of the new gTLDs opens doors to new marketing initiatives and sites' online positioning.
The .SEX Registry has also made internationalized domain names (IDNs) available as second level names. It is now possible to register domain names in more than twenty languages and scripts from all over the world, including German, Spanish, Russian, Japanese, Korean and Chinese.
If you wish to register a domain name under .SEX or any other extension, please feel free to use our search tool to check if the name you are looking for is available. Should you need assistance, please let us know by email at support@web-solutionsl.eu or via phone on +44 (0) 20 4571 1971.