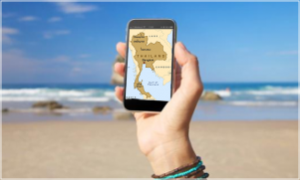 Thanks to the proliferation of mobile devices, such as smartphones and tablets, as well as the increasing availability of broadband Internet, the number of Thai citizens using the Internet went up substantially.
Thailand was the third country in South East Asia to obtain Internet access in 1996 and, since then, the use of the Net has grown in popularity, especially in the cities. According to the 2012 statistics, approximately 8.6 million people use the Internet daily in Thailand, and 24 million people (over one-third of the population) have regular access to the Web.
The rapid growth in the number of Internet users (about 26 million users in 2012) can be contributed to lower priced smartphones and wide availability of broadband Internet, particularly in major cities and towns, including Bangkok, Chiang Mai, Pattaya, and Phuket.
With Thailand's population of about 66 million, the number of mobile subscriptions reaches 90 million. The smartphone penetration rate is about 36% and its use is soaring with the reported increase of 29.1 % in the third quarter of 2013.
The technological advancements can be credited for the dynamic growth of e-commerce and online marketing in Thailand. Hence, any business seeking to mark its local presence or promote their services or products should consider investing in a localised Internet address, namely a Thai domain name. It will boost relationship building, developing new brands or doing everyday business in Thailand, especially for trademark holders.
Businesses with established online presence in Thailand (by means of a local Thai domain) can enhance their professional image while showing their commitment to the local clientele. Generating local traffic and obtaining new business will also be easier with a domain name under the .CO.TH extension dedicated to commercial websites in Thailand.
To find out more about .CO.TH or other Thai domains, please visit our designated web page at http://web-solutions.eu/domain-names-thailand.htm or contact our agents at relations@web-solutions.eu.