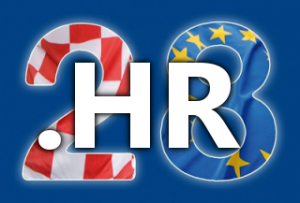 On 1 July 2013 Croatia became the 28th member state of the European Union. This small Balkan country has made big steps towards joining the world's largest trading bloc about 20 years after gaining independence. Establishing a local online presence puts companies wishing to do business in Croatia at an advantage.
Amid financial crisis in Europe, Croatia's accession offers new opportunities for internationally-minded companies. The introduction of over 350 laws and arrest of war criminals have helped Croatia change its dispirited post-Communist economy into a dynamic new hub. Apart from gaining access to the European market of 500 million consumers, this Mediterranean country will also benefit from about $18 billion in financing designated for the years 2014 to 2020.
It is expected that trade will increase rapidly in the region as well as new political ties, businesses and branch offices will be established in Croatia. A locally recognizable domain name is one of the surest ways to make any business' presence known on the market. More and more businesses register their .HR domains to introduce their brands and services through a local website instilling trust and recognition. Even though registration of a .HR ccTLD requires local presence, no physical presence is required with Trustee Service offered for domain applicants.
Croatia's joining the EU is an important development in the process of integration of one of the poorest regions in Europe. Other nations from former Yugoslavia such as Bosnia and Herzegovina, Kosovo, Macedonia, Montenegro and Serbia all have hopes of joining the bloc. Slovenia became the European member country in 2004.
Despite reservations concerning possible lawlessness and corruption, Croatia is viewed as a significant test case paving the way for other countries in the region. The number of .HR registrations continues to grow showing increasing interest in the internet presence in Croatia. If transition into the EU environment goes well, the doors will be open for other states hoping to join the European bloc and for opening the region to international business and economic growth.
Trustee service for .HR domain names
In order to register a .HR domain, Croatia require that the domain applicant is a company incorporated in Croatia. However, many companies opt to use Web Solutions' Local Presence Service for Croatia. With that service, no physical presence is required. For more information visit .HR domain name registration info page.
.COM.HR
As an alternative to the restricted .HR domain, you can opt to register a .COM.HR domain.
It is unrestricted, and can be registered immediately.