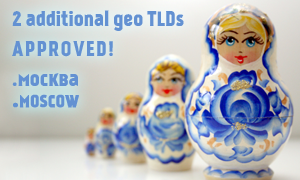 The two new top-level domain names, denoting the capital of Russia, Moscow) are:
.москва (Moscow in Russian) and .MOSKOW.
Geographic domains gain popularity as they are a very useful tool that can be used in positioning a business on a local market. Location-based affiliation can become instrumental in enhancing Internet presence and reaching local targets. The fast-growing number of .BERLIN registration can serve as an example.
If you are interested in registering a domain name in one of the above domains or any other extension, please enter the selected name in the box or contact our Support Team at support@web-solutions.eu or via phone on +44 (0) 20 4571 1971.
Pre-registration is available free of charge and with no obligation to buy later for domains not yet available for registration.