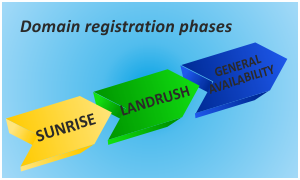 With more and more new gTLDs entering the Internet, it is important to understand the process that governs the release of new domains, from the moment they are approved to when they become generally available for registration.
Upon launch, new generic Top Level Domains (new gTLDs) follow a cycle of various phases. Typically, all TLDs start their launch with a Sunrise phase – the period restricted for trademark owners. The Sunrise phase is usually followed by a 60-day Landrush phase and, finally, General Availability.
Sunrise Period
The Sunrise Period is a mandatory phase for all new gTLDs when trademark and brand names can be registered as domains.
It is a requirement that a Sunrise Period is open only to holders of a validated trademark record in the Trademark Clearinghouse (TMCH).
There are two types of sunrise periods: Start Date Sunrise and End Date Sunrise. Registries are required to provide a specific time frame of the minimum of 60 days for the Start Date Sunrise. At the end of End Date Sunrise, pre-registered trademark and brand names are registered by the owners, and disputes between claimants to the individual addresses are settled through auction. This Sunrise must last at least 60 days and can be launched without advanced notice.
However, a Start Date Sunrise, or a "first-come, first-served" Sunrise, must last the minimum of 30 days and must be announced at least 30 days in advance.
Landrush Period
A Landrush Period is not mandatory and some registries may choose not to include it in their launch time line while some operators choose to offer an Early Access Program instead.
The Landrush period follows Sunrise and is the right time to register meaningful and important domain names that cannot be trademarked. Typically, registration is open to everyone during the Landrush phase but domains are offered at higher than regular prices. Domains wanted by more than one applicant may be allocated through auction or on a "first-come, first served" basis during a Landrush Period.
General Availability Period
The General Availability phase commences after all Sunrise and Landrush periods. This phase is open-ended, allowing the general public to register available TLDs on a "first-come, first-served" basis.
For more information about domain registration or to pre-register a domain name of your choice, please contact our Support Team at support@web-solutions.eu or via phone on +44 (0) 20 4571 1971.