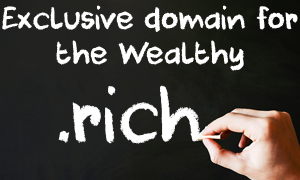 The new generic TLD .RICH has recently been approved for release to the Web and is expected to provide a new form of communication to those who prefer prestigious and luxury lifestyle.
The registry of .RICH offers the domain as "a premium online presence with protected namespace". Celebrities, members of social elites or any other wealthy personalities will enjoy the exclusive space on the Internet where prestigious brands, top quality personal service as well as cutting edge technology will be available to the select audience. A portion of the profits from the sales of the .RICH domain will go to charities.
If you wish to express interest in exclusive Internet space of your own or have any question regarding .RICH or any other domain, please contact our Support Team or click your selected domain name to find out more about its registration.
We can be reached at support@web-solutions.eu or via phone on +44 (0) 20 4571 1971.