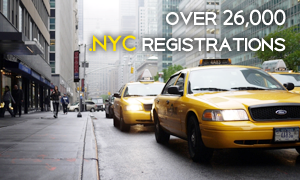 The results are a bit short of expectations as the number includes registrations from the Sunrise and Landrush phases, during which thousands of New York-based businesses, organisations and cultural insitutions had a chance to secure their own .NYC domains.
During the same period of time, an open application process called Neighborhoods.nyc was activated in order to encourage community groups to obtain their premium neighborhood domain names, such as WestVillage.nyc or Bronx.nyc. The new .NYC extension is available only to individuals and businesses with a physical address in New York City.
According to the latest updates, there are more than 35,000 domain names currently registered under .NYC, which ranks 14th among all the new gTLDs at the time of writing this article.
If you wish to highlight your association with the City of New York or register a domain name under a different extension, click on the domain of your choice. Should you need assistance, please do not hesitate to contact us at support@web-solutions.eu or by phone on +44 (0) 20 4571 1971.