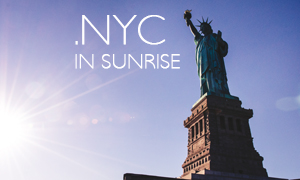 The first city in the United States to have its own local domain, New York will become a digital home to businesses, organisations and individuals based in the city. The new .NYC domain will be a powerful tool that can be used to support local enterprises and institutions as well as to provide a common identity for residents and communities of the City of New York.
The digital sphere is becoming more and more important, particularly on the local level. Following the example of .BERLIN, it can only be expected that the new digital address will be enthusiastically adopted by New Yorkers looking to mark their local affinity online. The new .NYC extension is expected to generate revenue, make some city government services more available to its residents, promote local businesses and tourism as well as enhance New York's image on the Web.
The TLD will only be available to businesses, organisations and residents of New York. During the Sunrise Phase (5 May – 20 June), New York-based trademark owners whose brands are registered with the Trademark Clearinghouse can apply for .NYC domain names.
Following the .NYC Sunrise period, further phases will be rolled out:
25/06 – 31/07 – registration of the City affiliated names;
04/08 – 03/10 – the Landrush phase;
beginning 08/10 – the General Availability phase.
To register a .NYC domain name or to learn more about the domains on offer, please contact our Support Team at support@web-solutions.eu or via phone on +44 (0) 20 4571 1971.