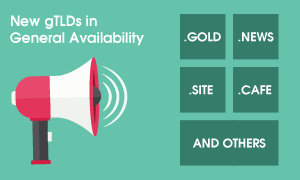 New gTLDs are particularly popular among young Internet users, a study conducted by the Domain Name Association shows. Based on the responses of over 5000 users from 10 different countries, it seems that about 85% of respondents consider new domains as relevant when accessing or searching for websites. They are more likely to click on new extensions than the legacy or country code domains. Despite the fact that some of the users are not aware of the New gTLDs Program, the new extensions seem interesting, easy to remember and relevant to the content.
As, the potential of the new gTLDs market is growing, it is worth looking at some additional domains that have just been offered to general public for registration. Those include:
.GOLD, .GOLF, .PLUS, .TOURS, .NEWS, .SITE, .CAFE, and .EXPRESS.
If any of those extensions suit your needs, please feel free to use our search tool to check if the name your are looking for is available. You are also welcome to check out an extensive list of other domains – local, generic, national or exotic – that we have on offer.
If you need assistance, please do not hesitate to contact us by email at support@web-solutions.eu or via phone on +44 (0) 20 4571 1971.