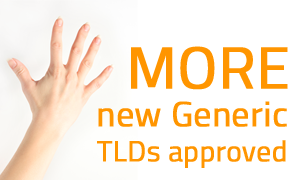 The total number of new gTLDs approved by the Internet Corporation for Assigned Names and Numbers (ICANN) reached 211. ICANN has plans to release hundreds more domains to the Web under its New gTLD Program designed to increase choice and competition online.
The five new generic TLDs are : .CAREER, .EUS, .GAL, .我爱你 (Chinese for "I love you") and .集团 (Chinese for "conglomerate/group").
We encourage you to take advantage of new opportunities offered by gTLDs and enhance your online presence. Think about registering a unique domain name of your choice to give your website a boost and bring in more relevant traffic.
Pre-registration is available at no cost and with no obligation to buy later for domains not yet available for registration.
Please enter the selected name into the box or contact our Support Team at support@web-solutions.eu or via phone on +44 (0) 20 4571 1971.