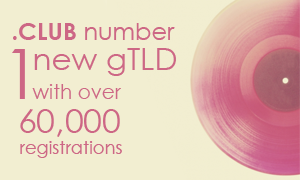 The rising popularity of the .CLUB extension hasn't quite delivered the results expected by the registry anticipating the gTLD to become the number one within a week of the start of General Availability. However, the .CLUB domain reached that goal within three weeks of the GA commencement.
Both .CLUB and .GURU with 60,400 and 59,470 registrations respectively remain strong leaders among all new generic TLDs. They both have launched with impressive 50,000 registrations or more while the lonely second is .BERLIN with 48,160 registered domains.
Other gTLDs that have passed the 30,000 registrations mark are:
.PHOTOGRAPHY (36,539),
.在线 (Chinese for "online" – 31,556),
.LINK (31,513) and
.EMAIL (31,023).
Three additional gTLDs complete the top ten list: .TODAY (25,306), .TIPS (22,976) and .COMPANY (19,804).
The total number of registration across the 275 new gTLDs has passed 843,000.
Currently, there are 22 gTLDs with over 10,000 registrations, 45 with more than 5,000 and 90 with registrations exceeding 1,000.
To register a domain name of your choice, click on the selected domain to find out more about its registration. If you have questions or need assistance, please contact our Support Team at support@web-solutions.eu or via phone on +44 (0) 20 4571 1971.