How to setup Let's Encrypt SSL Certificate in Plesk?
1.Go to Domains and select the domain you want to secure. Click "Hosting Settings".
2. On the "Hosting Settings" page, make sure that "SSL/TLS" support is enabled.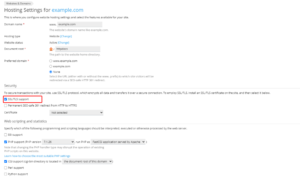 3. Go back to domain's dashboard. Click "Let's Encrypt".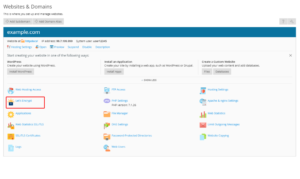 4. Select required options. We recommend to select:
Include the "www" subdomain for the domain and each selected alias

Secure webmail on this domain ( if your mail service is active)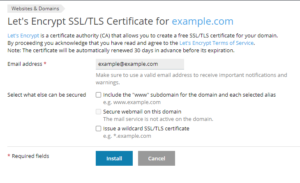 5. Click "Install". At this stage, an SSL certificate from Let's Encrypt is generated and set to secure the domain. This certificate is valid for the next 90 days and will be auto-renewed by the Let's Encrypt extension.
Back Last updated: October 27, 2020 by Web Solutions