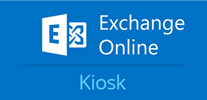 Exchange Online Features
Exchange Online is one of the product under the umbrella of Microsoft 365, and it's included in many Microsoft 365 plans that include email service. Exchange Online is also available for subscription on a standalone basis for users who just need a hosted Exchange service without other unnecessary add-ons.
Microsoft Services Descritpion
Microsoft Exchange Online is an email, calendar, and contacts solution delivered as a cloud service, hosted by Microsoft or Partners. It is built on the technologie called Microsoft Exchange Server. Exchange Online provides end users with a familiar email experience across PCs, the Web and mobile devices, while giving IT administrators or small businesses and professionals web-based tools for managing their online deployment.Microsoft Exchange is available both as on-premises software and as a hosted service with Exchange Online. Customers can also choose to combine both on-premises and online options in a hybrid deployment.